Chattaroy is an unincorporated community in Spokane County, Washington, United States. The town is located on U.S. Route 2 approximately 10 miles north-northeast of Spokane at the confluence of the Little Spokane River and Deer Creek.  Originally, Chattaroy was named Kidd. Kidd was renamed to Chattaroy at the request of the Great Northern Railroad. There was another town named Kidd (in Montana) that was on the Great Northern Line, so the railroad requested a name change to avoid confusion.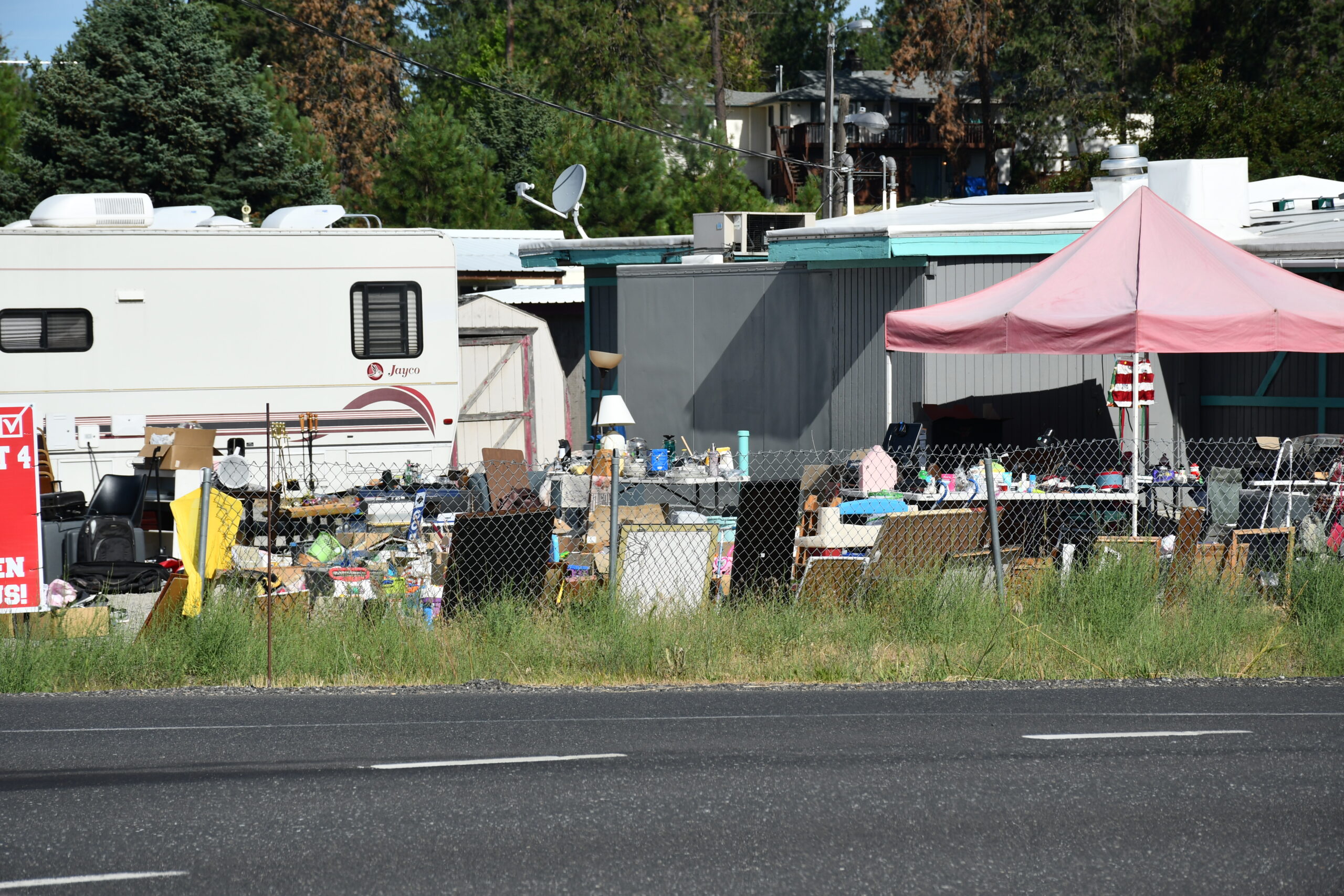 Chattaroy Flea Market
Mercado de Las Pulgas de Chattaroy
Chattaroy es una comunidad no incorporada en el condado de Spokane, Washington, Estados Unidos. La ciudad se encuentra en la Ruta 2 de los Estados Unidos aproximadamente a 10 millas al norte-noreste de Spokane en la confluencia del río Little Spokane y Deer Creek. Originalmente, Chattaroy se llamaba Kidd. Kidd fue renombrado a Chattaroy a petición del Great Northern Railroad. Había otra ciudad llamada Kidd (en Montana) que estaba en la Great Northern Line, por lo que el ferrocarril solicitó un cambio de nombre para evitar confusiones.
Mrs Robert Cowgill and Mrs Alexander B. Owen renamed Kidd to the name of Chattaroy. Chattaroi (no "y") was the hero in a novel that these two women were reading at the time. They changed the French spelling of "roi" to "roy".
x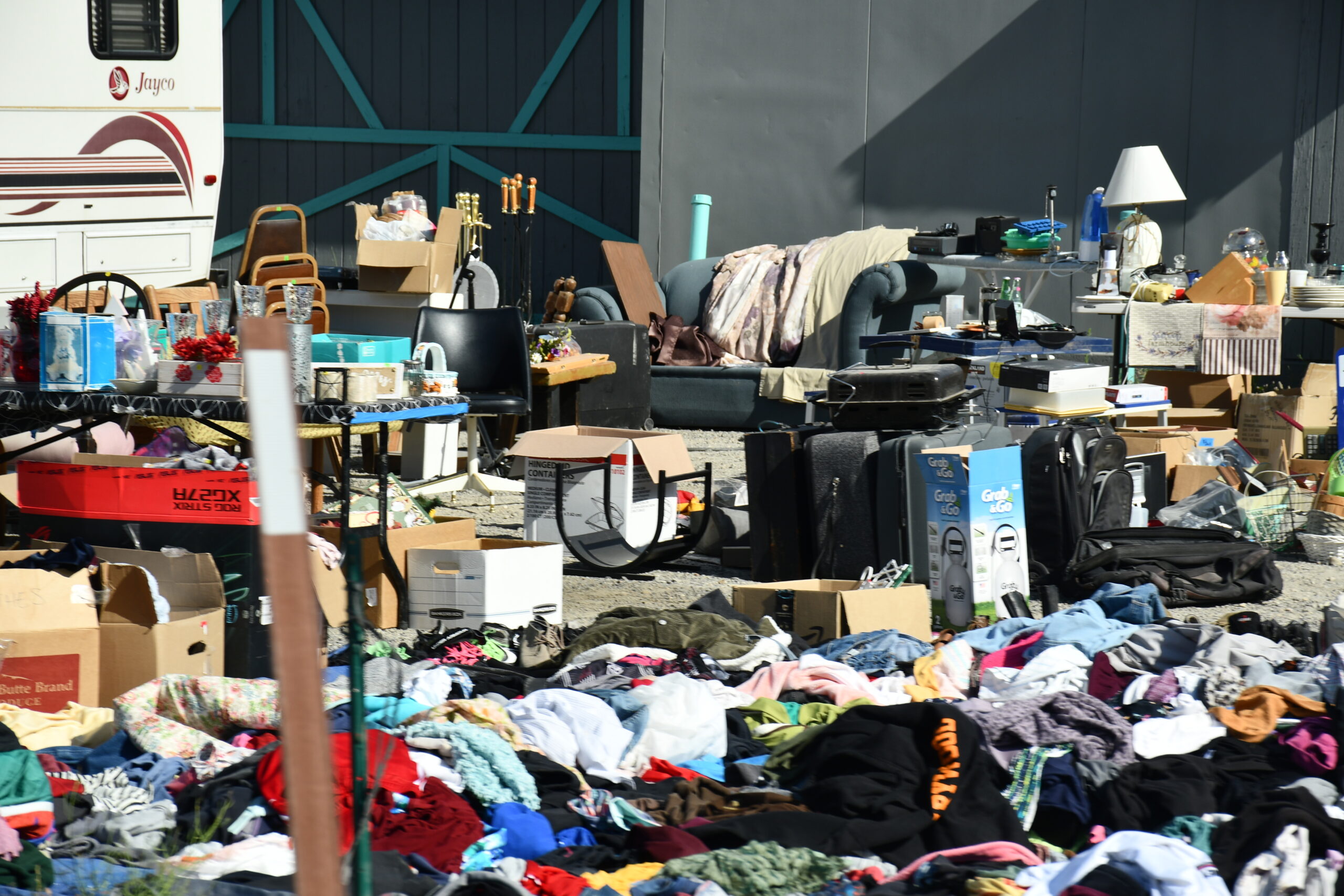 x
La señora Robert Cowgill y la señora Alexander B. Owen cambiaron el nombre de Kidd por el nombre de Chattaroy. Chattaroi (sin "y") era el héroe de una novela que estas dos mujeres estaban leyendo en ese momento. Cambiaron la ortografía francesa de "roi" a "roy".
Founded in the 1880s, Chattaroy is located two miles east of the defunct Spokane Falls & Northern Railway's Dragoon station. Residents were buried in the Chattaroy cemetery as early as 1888. A post office called Chattaroy has been in operation since 1888. The origin of the name Chattaroy is obscure.
x
x
Fundada en la década de 1880, Chattaroy se encuentra a dos millas al este de la desaparecida estación Dragoon de Spokane Falls & Northern Railway. Los residentes fueron enterrados en el cementerio de Chattaroy ya en 1888. Una oficina de correos llamada Chattaroy ha estado en funcionamiento desde 1888. El origen del nombre Chattaroy es oscuro.
In 1900 the community consisted of approximately 250 residents, two general stores, Barker's Hotel, a drug store operated by a Dr. Smith, a blacksmith shop, a public school with some 60 students, a Congregational church ministered by Reverend F. McConaughy, a Sunday school, and a Modern Woodmen of America hall.
x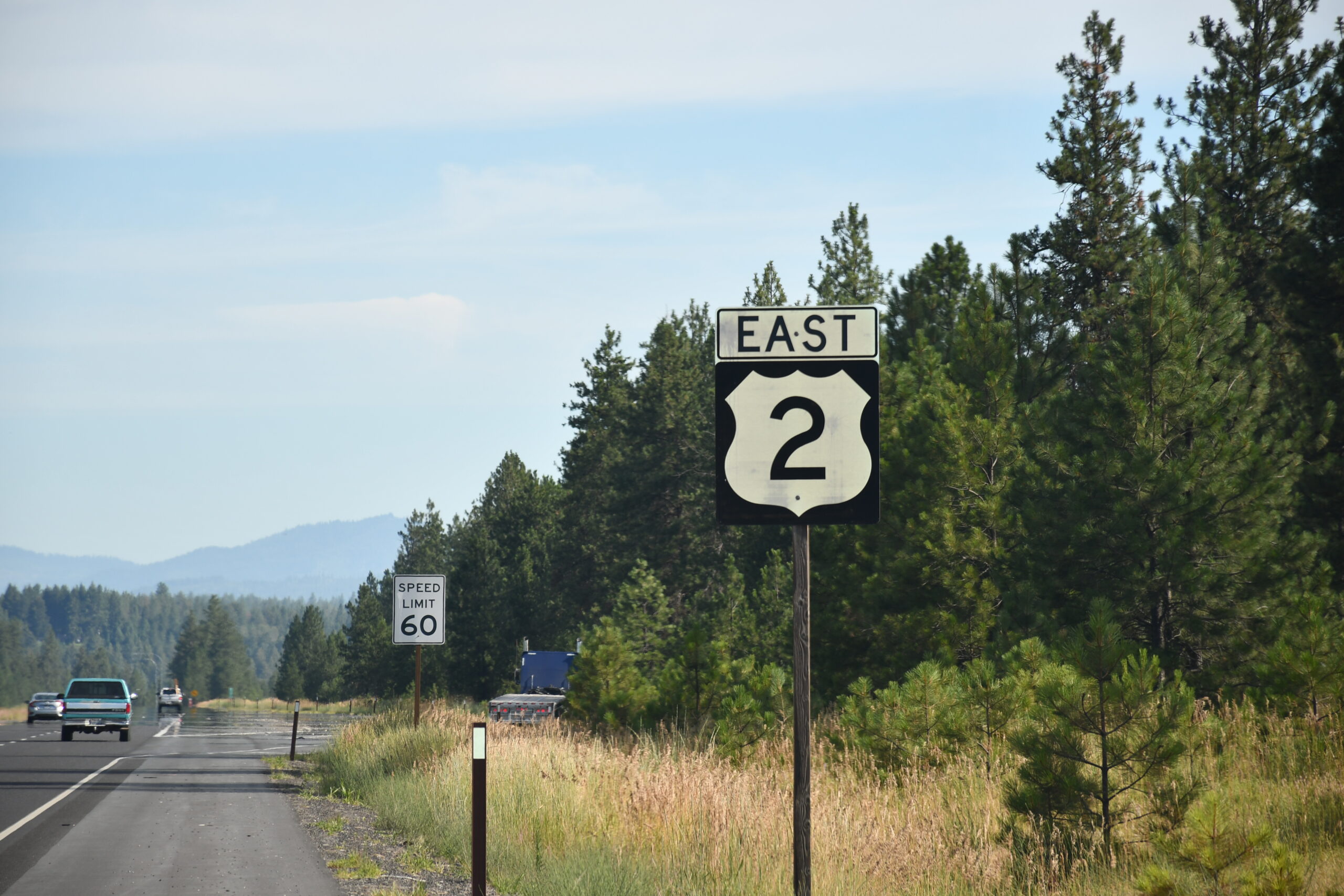 x
En 1900, la comunidad consistía en aproximadamente 250 residentes, dos tiendas generales, Barker's Hotel, una farmacia operada por un Dr. Smith, una herrería, una escuela pública con unos 60 estudiantes, una iglesia congregacional ministrada por el reverendo F. McConaughy, una escuela dominical y un salón Modern Woodmen of America.
x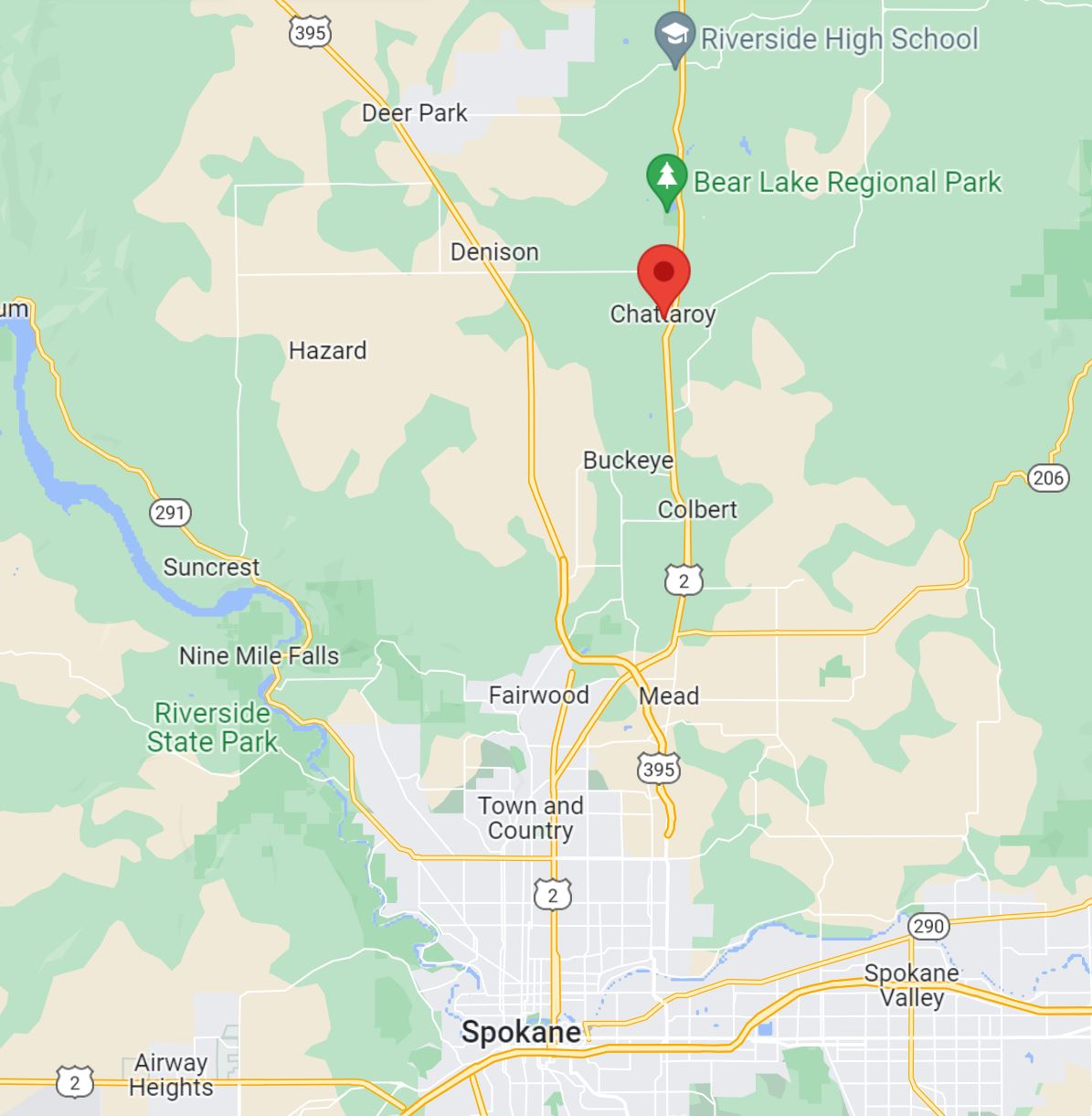 x
The extraordinary inn where we stayed, "Bluff's Edge," is located in the heart of Chattaroy, 9 miles from Deer Park, 11 miles from Spokane's north entrance and 10 miles from Mead, where I spent my first year in Washington state.
La estraordinaria posada donde nos quedamos, "Bluff's Edge", está ubicada en el corazón de Chattaroy, a 9 millas de Deer Park, a 11 millas de la entrada norte de Spokane y a 10 millas de Mead, donde pasé mi primer año en el estado de Washington.
x
Jul 18-25, 2022x
Index
1st Street Restaurante de Deer Park
…..Eating Prime Ribs
…..Mark & the story of the Bread Board
…..Hay bales
…..Hay roles
…..Harold Weger
At Marny Burdega's home
 ….An endless train
…..Mike Burdega's story
…..The Peace Corps
…..The Smoke Tree
At Spokane Int. Airport
…..Bev's story
….Big Foot story
….Bluff's Edge Temperature
…..Chemtrails over Deer Park
…..Finding Bluff's Edge
…..From Bluff's Edge to Burdega
…..Hummingbirds drinking fountain
…..Our suite
…..Siomi & Dick
…..Solar Cover Reel
…..Swallow nest
Breakfast in Deer Park
…..Daily Life Essentials
…..Zip's
Cat Tales
.
Chattaroy

, Washington

.
Clayton Rodeo – Rodeo de Clayton

……Davie, FL Rodeo
Dallas,Texas
…..Dealey Plaza
…..Downtown Dallas
…..From Dallas to Spokane
…..From Ft. Lauderdale to Dallas
…..Farmers Market
…..John Neeley Bryan's Cabin
…..Kennedy Memorial
…..Mandalay Canal Walk
…..Pegasus
…..Pioneer Plaza
…..Reunion Tower
…..Yellow Green Farmers Market
Dining at Erickson's home
…..53 Years Ago – Everlasting friendship!
Mt. Spokane
Settlers Parade
Settlers Picnic
…..Deer Park High School Classmates
Siomi's flower – La flor de Siomi
…..Downtown
…..Riverfront
…..Skyride
Touring Deer Park & Wild Rose
…..Burdega's old home
…..Deer Park "new" Highschool
…..Deer Park Middle Sschool
…..Grandpa Hell's old hardware store
…..Grandpa Hell's old home
…..Grandpa & Grandma Losh's old home
…..Grandpa Losh's parents
…..

Norman's Tree

…..Norman & Beverly Losh's first home

…..Our Catholic Church

…..Our Protestant Church

…..Weger's Farm

…..Wild Rose Cemetery

…..Wild Rose old church & Fire Station

TRIP TO DEER PARK (Home page)
Trump Vs. Biden
…..Tea Party's speech
…..Trump Won
Wine Tasting – Catando vino
…..Halix
…..St. Augustine, FL – Winery.
Yoke's Supermarket
…..Deer Park Yoke's
 …..Expresso at Mead Yoke's
 …..Jerky
…..Our first female tattoo
 …..Siomi dream pan