During our week-long stay in Deer Park, we had breakfast at two locations. The first restaurant was Zip's Drive-In, a restaurant chain located in the Inland Northwest region of the United States, more commonly referred to as "Zip's".
x
Durante nuestra estancia de una semana en Deer Park, desayunamos en dos lugares. El primer restaurante fue Zip's Drive-In, una cadena de restaurantes ubicada en la región del noroeste interior de los Estados Unidos, más comúnmente conocida como "Zip's".
Zip's Drive In was founded in 1953 in Kennewick, Washington, by Robert "Zip" Zuber.  Zip's was originally created to serve scientists and workers coming to the Tri-Cities (3 closely linked cities at the confluence of Yakima, Snake and Columbia Rivers in the Columbia Basin of Eastern Washington) to work at Hanford and other nuclear industry companies. Zip's attracted so many customers, that Zuber decided to build another store, this time in Spokane. The new store was an immediate hit with college kids from Gonzaga.  Zip Zuber then sold the Spokane store to Jake Vorrath, who opened another burger store in Spokane. He then sold the store to Harold Laing, and the other store to the drive-in's manager, Harold Fettig. When Henry Laing died, his wife sold the restaurant to Ed Minor, who partnered with Don Kelly. Fettig, Minor, Kelly, their families, and former store managers remain operators of most of the restaurants today.
Zip's Drive In fue fundada en 1953 en Kennewick, Washington, por Robert "Zip" Zuber. Zip's fue creado originalmente para servir a científicos y trabajadores que vienen a las Tri-Cities (3 ciudades estrechamente vinculadas en la confluencia de los ríos Yakima, Snake y Columbia en la cuenca de Columbia en el este de Washington) para trabajar en Hanford y otras compañías de la industria nuclear. Zip's atrajo a tantos clientes, que Zuber decidió construir otra tienda, esta vez en Spokane. La nueva tienda fue un éxito inmediato entre los estudiantes universitarios de Gonzaga. Zip Zuber luego vendió la tienda spokane a Jake Vorrath, quien abrió otra tienda de hamburguesas en Spokane. Luego vendió la tienda a Harold Laing, y la otra tienda al gerente del autocine, Harold Fettig. Cuando Henry Laing murió, su esposa vendió el restaurante a Ed Minor, quien se asoció con Don Kelly. Fettig, Minor, Kelly, sus familias y los ex gerentes de tiendas siguen siendo operadores de la mayoría de los restaurantes en la actualidad.
In the 1960s, Zip's was a typical American drive-in restaurant, but by the 1970s many drive-ins across America were closing. Zip's began to decline, but Minor and Kelly built some of the first drive-thrus in the Northwest. Their quick thinking ended up saving the chain, and it is one of the few local restaurant chains still in operation today.  The restaurant makes 30 gallons of fry sauce and 40 gallons of tartar sauce a week.
En la década de 1960, Zip's era un típico restaurante de autoservicio estadounidense, pero en la década de 1970 muchos autocines en todo Estados Unidos estaban cerrando. Zip's comenzó a declinar, pero Minor y Kelly construyeron algunos de los primeros drive-thrus en el noroeste. Su pensamiento rápido terminó salvando a la cadena, y es una de las pocas cadenas de restaurantes locales que todavía están en funcionamiento hoy en día. El restaurante hace 30 galones de salsa frita y 40 galones de salsa tártara a la semana.
Zip's is located in 8 counties across Washington and Idaho and was located in 11 counties at its peak. The chain started in the Tri-Cities, spread to Spokane, and then eventually spread to the Idaho Panhandle and the Palouse. Locations in Ritzville and Boise were opened, but due to the recession, the Boise location has since closed down.
Zip's se encuentra en 8 condados de Washington e Idaho y se encuentra en 11 condados en su apogeo. La cadena comenzó en las Tri-Cities, se extendió a Spokane, y luego finalmente se extendió al Idaho Panhandle y al Palouse. Se abrieron ubicaciones en Ritzville y Boise, pero debido a la recesión, la ubicación de Boise ha cerrado desde entonces.
In Deer Park it is located at 31720 N Cleveland Rd., at the southern entrance of town, where we ate one of the most-expenses breakfast of our life.
Daily Life Essentials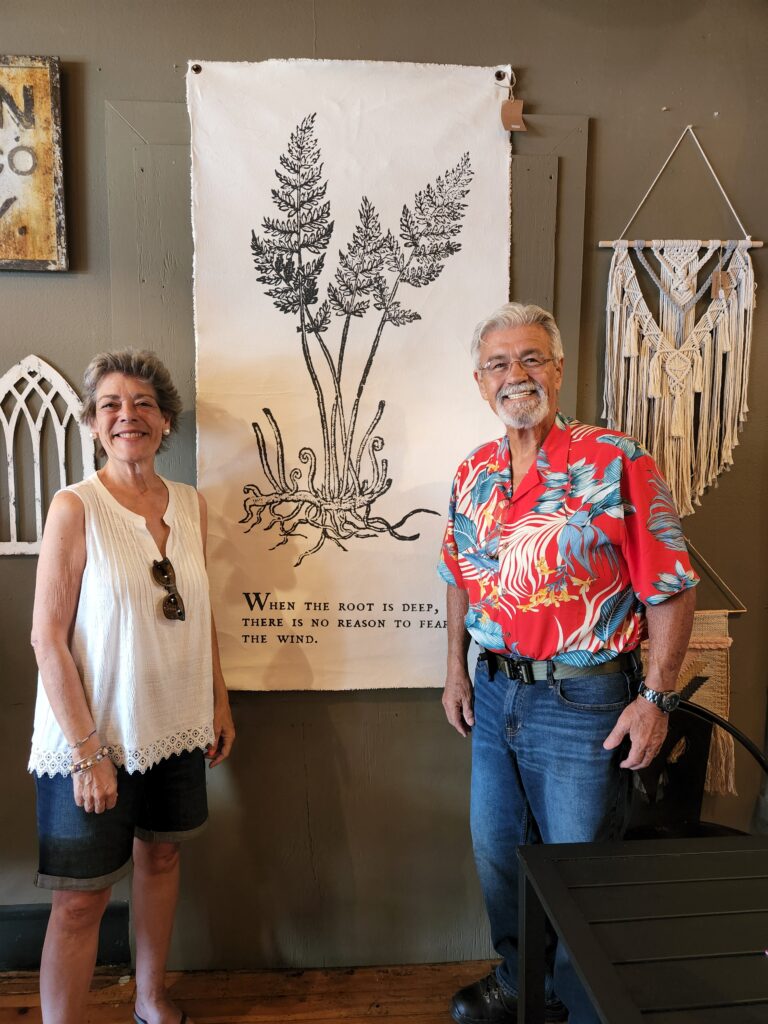 x
The other place we had breakfast was at "Daily Life Essentials", located at 5 N. Main Street in Deer Park. There we were struck by a poster that said: "When the root is deep, there is no reason to fear the wind".  They serve a formidable espresso. By the way, espresso is very fashionable, at least in the north of the United States, something that was not known years ago.
El otro lugar donde desayunamos fue en "Daily Life Essentials", ubicado en 5 N. Main Street en Deer Park. Allí nos llamó la atención un cartel que decía: "Cuando la raíz es profunda, no hay razón para temer al viento". Sirven un formidable espresso. Por cierto, el espresso está muy de moda, al menos en el norte de Estados Unidos, algo que no se conocía hace años.
x
x
On our visit to Deer Park in 2018, we had breakfast at "Lofty Skies Coffee", where "Daily Life Essentials" now stands.  We had summoned Mark for breakfast at 5 N. Main Street in Deer Park, believing it to be "Lofty Skies Coffee". We made him wait an hour before realizing that "Lofty" had moved to 851 S Main Street in Deer Park.
x
x
En nuestra visita a Deer Park en 2018, desayunamos en "Lofty Skies Coffee", donde ahora se encuentra "Daily Life Essentials". Habíamos convocado a Mark para el desayuno en 5 N. Main Street en Deer Park, creyendo que era "Lofty Skies Coffee". Lo hicimos esperar una hora antes de darse cuenta de que "Lofty" se había mudado a 851 S Main Street en Deer Park.
x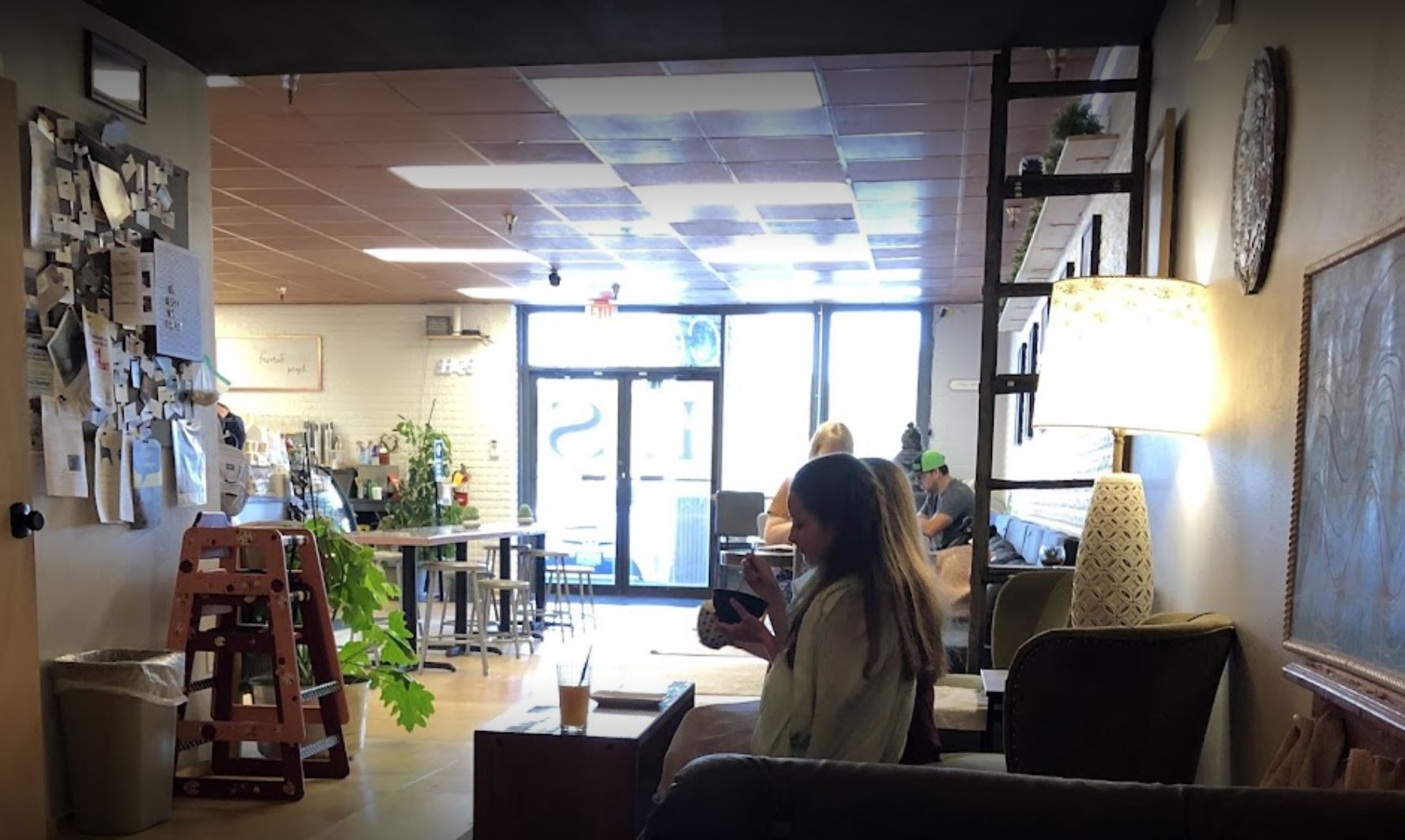 x
Deer Park's Lofty Skies Coffee todayx
Index
1st Street Restaurante de Deer Park
…..Eating Prime Ribs
…..Mark & the story of the Bread Board
…..Hay bales
…..Hay roles
…..Harold Weger
At Marny Burdega's home
 ….An endless train
…..Mike Burdega's story
…..The Peace Corps
…..The Smoke Tree
At Spokane Int. Airport
…..Bev's story
….Big Foot story
….Bluff's Edge Temperature
…..Chemtrails over Deer Park
…..Finding Bluff's Edge
…..From Bluff's Edge to Burdega
…..Hummingbirds drinking fountain
…..Our suite
…..Siomi & Dick
…..Solar Cover Reel
…..Swallow nest
Breakfast in Deer Park
…..Daily Life Essentials
…..Zip's
Cat Tales
.
Chattaroy

, Washington

.
Clayton Rodeo – Rodeo de Clayton

……Davie, FL Rodeo
Dallas,Texas
…..Dealey Plaza
…..Downtown Dallas
…..From Dallas to Spokane
…..From Ft. Lauderdale to Dallas
…..Farmers Market
…..John Neeley Bryan's Cabin
…..Kennedy Memorial
…..Mandalay Canal Walk
…..Pegasus
…..Pioneer Plaza
…..Reunion Tower
…..Yellow Green Farmers Market
Dining at Erickson's home
…..53 Years Ago – Everlasting friendship!
Mt. Spokane
Settlers Parade
Settlers Picnic
…..Deer Park High School Classmates
Siomi's flower – La flor de Siomi
…..Downtown
…..Riverfront
…..Skyride
Touring Deer Park & Wild Rose
…..Burdega's old home
…..Deer Park "new" Highschool
…..Deer Park Middle Sschool
…..Grandpa Hell's old hardware store
…..Grandpa Hell's old home
…..Grandpa & Grandma Losh's old home
…..Grandpa Losh's parents
…..

Norman's Tree

…..Norman & Beverly Losh's first home

…..Our Catholic Church

…..Our Protestant Church

…..Weger's Farm

…..Wild Rose Cemetery

…..Wild Rose old church & Fire Station

TRIP TO DEER PARK (Home page)
Trump Vs. Biden
…..Tea Party's speech
…..Trump Won
Wine Tasting – Catando vino
…..Halix
…..St. Augustine, FL – Winery.
Yoke's Supermarket
…..Deer Park Yoke's
 …..Expresso at Mead Yoke's
 …..Jerky
…..Our first female tattoo
 …..Siomi dream pan