When the Losh family had to move from Deer Park, after the failure of the restaurant "The Bread Board", they ended up in Onalaska, a small town lost in the middle of western Washington. There they had a successful food business. Sharon found a major job at the town's high school and her husband, Dennis, became the high school's basketball coach.  When the regime of Hugo Chávez ordered my extradition, we took refuge for a while in Onalaska.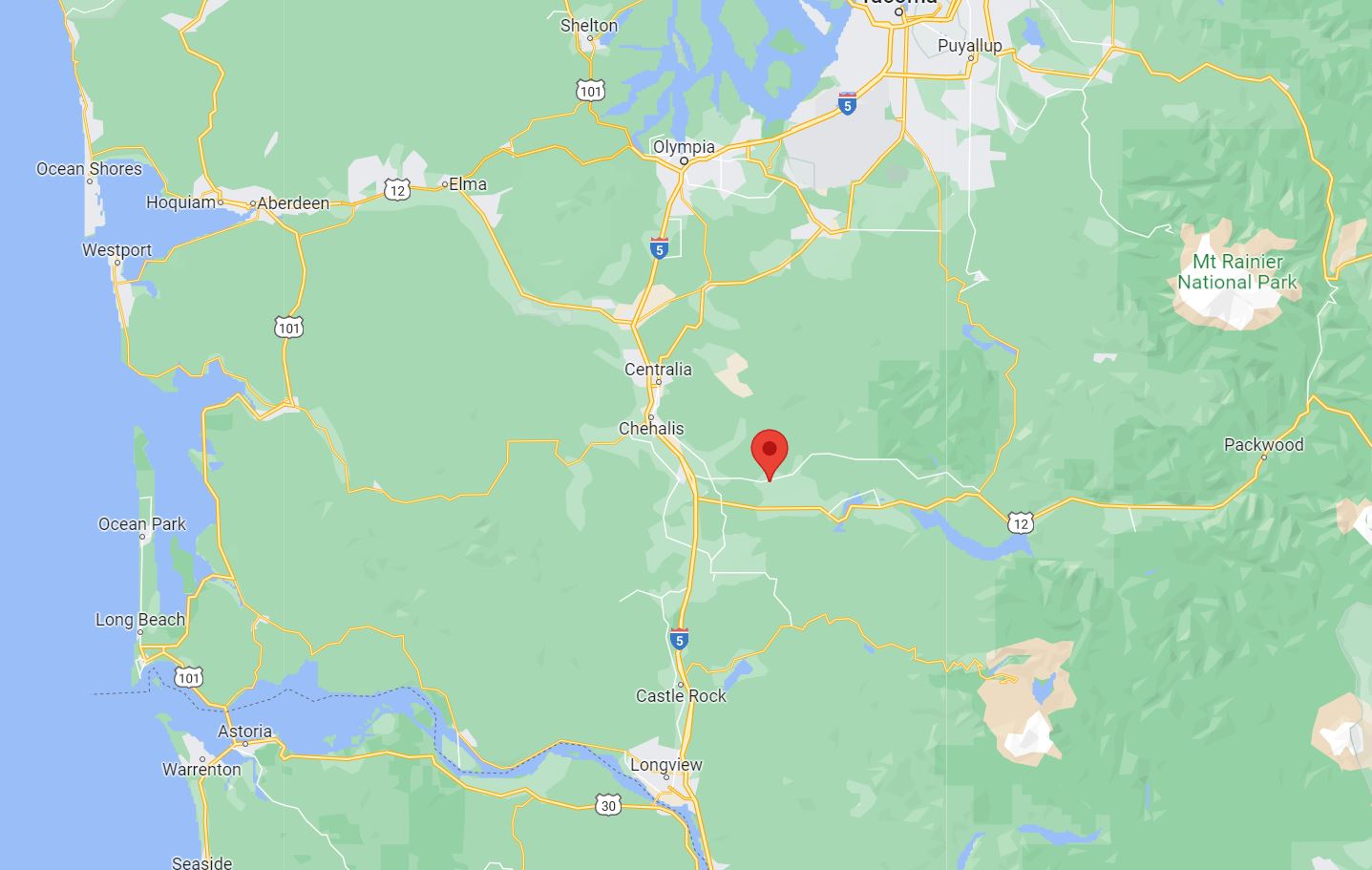 Onalaska was built around the inland mill established by the Carlisle Lumber Company in 1909. At its peak in 1929, company inventory numbered over 20 million board feet of lumber — enough to stretch all the way to the Panama Canal.
The company's surviving 225-foot smokestack near Carlisle Lake was built approximately in 1920, and is the last trace of one of the most successful mid-sized sawmills in Washington state. In May 2021, the site was listed to the Washington Heritage Register by the Washington State Advisory Council on Historic Preservation.
The mill employed a sizeable number of Japanese and Japanese Americans. They lived north of today's State Route 508 and east of Carlisle Avenue. The streets, which ran parallel to Carlisle Avenue were called Oriental Avenue, Nippon Avenue and Tokyo Avenue.
According to Onalaska, a history of the Carlisle Lumber Company by Vic Kucera, the 1940 census showed 62 people of Japanese descent living in Lewis County. Because of their experience in the mill, the local Japanese Americans were forced to relocate to Camp Tulelake in California to help with its construction, Kucera writes. The Army relied on their labor to finish the camp where they were subsequently interned for the duration of WWII.
The Lewis County Museum in Chehalis has an exhibit honoring the Japanese and Japanese American internees.  In 2014, Governor Jay Inslee awarded $20,000 to Onalaska Wood Energy during his Climate Tour that year and praised the company as "one of the leaders in biofuel technology." By 2020, the company had left 100,000 gallons of hazardous waste and in 2021 the EPA started an emergency $0.9 million cleanup, shipping the waste by truck and railroad to Idaho and Utah.
x
We went to visit our American sister, Sharon.  She had a beautiful home near the town of Onalaska.  We loved the visit and, above all: the company! His two daughters no longer lived with Dennis and Sharon, so the house was at our disposal to spend the night before returning to South Florida.
x
The Bower's home in Onalaska
Part of our sister's home has become a museum of one of America's great basketball coaches: her husband Dennis Bower, whom I met when he was a teenager and began courting Sharon. I even served as a chaperone in a few evenings.
Old photos from Deer Park
I'm fond of old photographs and I didn't know these that my American mom (or my older American sister?), Beverly is explaining to us. I dream one day of visiting Deer Park with Beverly and touring the old places full of stories that many might not know.
Dennis' Onalaska High School basketball team
Graduated from Deer Park High School in 1977. Graduated from Central Washington University in 1982. Married his high school sweetheart Sharon in 1982. Sharon taught at Onalaska elementary for nine years and was the elementary principal for five years. After working at Onalaska she was the superintendent at Toledo for ten years. Presently working for Washington State Leadership Academy. They have two beautiful daughters both graduated from Onalaska: Brittney in 2002 and Alida in 2004. Dennis has four grandchildren Morgan, Kellan, Quinn, and Emory. Dennis earned his Masters in Education in 2014. In 2012 Coach Bower was inducted in the Washington State Basketball Hall of Fame. That same year he earned his 500 career win and in 2013 he was honored as the NFHS National Basketball Coach of the Year. A 36 year veteran of teaching Dennis is extremely blessed and honored to be an Onalaska Logger!
Onalaska General Store

In the tiny village of Onalaska there are no supermarkets. Its inhabitants have to resort to old markets like the one in the video. It was an extremely extraordinary experience that took us back to, perhaps, the nineteenth century.
Index
xxxxxxxxxx On our way to Centralia
xxxxxxxxxx Shopping at Safeway
xxxxxxxxxx Holy Water
xxxxxxxxxx Flip Wilson's routine
xxxxxxxxxx At Beverly's
x
xxxxxxxxxx On our way to Snohomish
xxxxxxxxxx Marky's home in Snohomish
xxxxxxxxxx How the Loshes found Bob
xxxxxxxxxx Making Cuban Coffee
xxxxxxxxxx Sharpening Marky's knife
x
x
xxxxxxxxxx Helen, Georgia
xxxxxxxxxx German restaurant in Florida
xxxxxxxxxx Colonia Tovar in Venezuela
xxxxxxxxxx Chonchita's home
x
xxxxxxxxxx Rosario Beach
xxxxxxxxxx Deception Pass
xxxxxxxxxx On our way to Coupeville
xxxxxxxxxx Visiting Coupeville
x
x
xxxxxxxxxx Lunch at Shary
xxxxxxxxxx At Sharon's
xxxxxxxxxx At the Bower's
xxxxxxxxxx Old photos from Deer Park
xxxxxxxxxx Dennis Basketball Team
xxxxxxxxxx Onalaska General Store
x
xxxxxxxxxx I ain't gone give nobody
xxxxxxxxxxxxxxxnone of my jolly roll
xxxxxxxxxx Nena Marinelli's version
xxxxxxxxxx Emma Barrett's version
xxxxxxxxxx New Orleans
xxxxxxxxxxxxxxxStompers' version
x
2018
x
x
xxxxxxxxxx Monroe Road
xxxxxxxxxx Wild Rose Cemetery
xxxxxxxxxx Loshes' Old Home
xxxxxxxxxx Sunflower field I
xxxxxxxxxx Sunflower field II
xxxxxxxxxx Wheat field
x
xxxxxxxxxx Entering Deer Park
xxxxxxxxxx Driving around Deer Park
xxxxxxxxxx Main Street Deer Park
xxxxxxxxxx Deer Park Hish School
xxxxxxxxxx 1st. Street Restaurant
xxxxxxxxxx Shopping at Yoke's
x
xxx