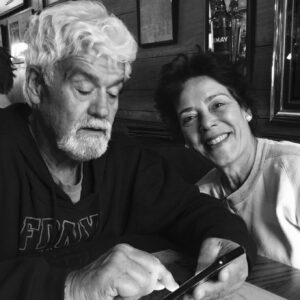 Mr & Mrs. Alonso
In 1997 we inaugurated the "Curacao Ostrich & Game Farm", which introduced the ostrich industry in the Caribbean area and beyond, to Ecuador and Peru, in partnership with South African Marvyn Malán, who recently died in a car accident.  The video below these lines shows our start.   In it we built a restaurant where our customers tasted the meat of these wonderful birds and their derivatives.  The Black Neck stallions were brought directly from South Africa on a 747 aircraft that we chartered for such purposes.
That same year we started marketing ostrich meat in Venezuela.  The best restaurants in that country promoted the product with great success.  In fact, we even got restaurants to sell the meat to their customers to be prepared at home.  The ostrich carp was a success.  We even reached an agreement with the government of Venezuela to produce this meat nationally, with sponsorship and government funding.
We were very successful with south African sausages called "Boerwors", ostrich carpaccio and, above all, ostrich pate.

We prepared videos to teach Venezuelan chefs how to cook ostrich medallions and print one-page brochures explaining to consumers, in restaurants, the goodness of this red meat, recommended by the American Heart Asociation of the United States, as it is a red meat, but extraordinarily lean, with a very low fat content.

Then came "the night" in Venezuela and a totalitarian and socialist regime took over the country.  Everything changed.  Our business in Venezuela was expropriated and destroyed by Hugo Chavez and we found ourselves in need of dissolving our partnership with our partner in Curacao.
In 2004 our family was forced to immigrate to the United States where we obtained, over the years, our U.S. citizenship.  Today we want to take advantage our knowledge of industry and ostrich meat marketing in order to introduce it to hundreds of restaurants in the state of Florida.
During our "golden years", we market ostrich meat on several tourist islands in the Caribbean, our best market being the beautiful island of San Martin.  In Venezuela we pioneered the export of stallions and founded the National Association of Ostrich Breeders in our country.
We are interested in being EXCLUSIVE DISTRIBUTORS of your ostrich products, starting in the state of Florida, where we currently reside.
Very truly yours,
Roberto Alonso
(786) 641.3888