Gatlinburg is a mountain resort city in Sevier County, Tennessee, United States. It is located 39 miles (63 km) southeast of Knoxville and had a population of 3,944 at the 2010 Census and an estimated U.S. Census population of 4,144 in 2018. It is a popular vacation resort, as it rests on the border of Great Smoky Mountains National Park along U.S. Route 441, which connects to Cherokee, North Carolina, on the southeast side of the national park. Prior to incorporation, the town was known as White Oak Flats, or just simply White Oak.
For centuries, Cherokee hunters, as well as other Native American hunters before the Cherokee, used a footpath known as Indian Gap Trail to access the abundant game in the forests and coves of the Smokies. This trail connected the Great Indian Warpath with Rutherford Indian Trace, following the West Fork of the Little Pigeon River from modern-day Sevierville through modern-day Pigeon Forge, Gatlinburg, and the Sugarlands, crossing the crest of the Smokies along the slopes of Mount Collins, and descending into North Carolina along the banks of the Oconaluftee River.  US-441 largely follows this same route today, although it crests at Newfound Gap rather than Indian Gap.
Although various 18th-century European and early American hunters and fur trappers probably traversed or camped in the flats where Gatlinburg is now situated, it was Edgefield, South Carolina, native William Ogle (1751–1803) who first decided to permanently settle in the area. With the help of the Cherokee, Ogle cut, hewed, and notched logs in the flats, planning to erect a cabin the following year.  He returned home to Edgefield to retrieve his family and grow one final crop for supplies. However, shortly after his arrival in Edgefield, a malaria epidemic swept the low country, and Ogle succumbed to the disease in 1803. His widow, Martha Huskey Ogle (1756–1827), moved the family to Virginia, where she had relatives. Sometime around 1806, Martha Huskey Ogle made the journey over Indian Gap Trail to what is now Gatlinburg with her brother, Peter Huskey, her daughter, Rebecca, and her daughter's husband, James McCarter. William Ogle's notched logs awaited them, and they erected a cabin near the confluence of Baskins Creek and the West Fork of the Little Pigeon shortly after their arrival. The cabin still stands today near the heart of Gatlinburg. James and Rebecca McCarter settled in the Cartertown district of Gatlinburg.
Despite its anti-slavery sentiments, Gatlinburg, like most Smoky Mountain communities, tried to remain neutral during the war. This changed when a company of Confederate Colonel William Holland Thomas' Legion occupied the town to protect the saltpeter mines at Alum Cave, near the Tennessee-North Carolina border. Federal forces marched south from Knoxville and Sevierville to drive out Thomas' men, who had built a small fort on Burg Hill.  Lucinda Oakley Ogle, whose grandfather witnessed the ensuing skirmish, later recounted her grandfather's recollections:
… he told me about when he was a sixteen year old boy during the Civil War and would hide under a big cliff on Turkey Nest Ridge and watch the Blue Coats ride their horses around the graveyard hill, shooting their cannon toward Burg Hill where the Grey Coats had a fort and would ride their horses around the Burg Hill.
As the Union forces converged on the town, the outnumbered Confederates were forced to retreat across the Smokies to North Carolina. Confederate forces did not return, although sporadic small raids continued until the end of the war.
On our way to Gatlinburg
It was hard saying goodbye to Mamy, but pretty soon we were all happy and excited to fly in American Airlines.  For Miranda it was her first time.  Santy flew from Venezuela to the United State when he was five years old and didn't remember a thing.  While they were waiting, of course, it was "navigation time".
FROM FORT LAUDERDALE TO CHARLOTTE, NORTH CAROLINA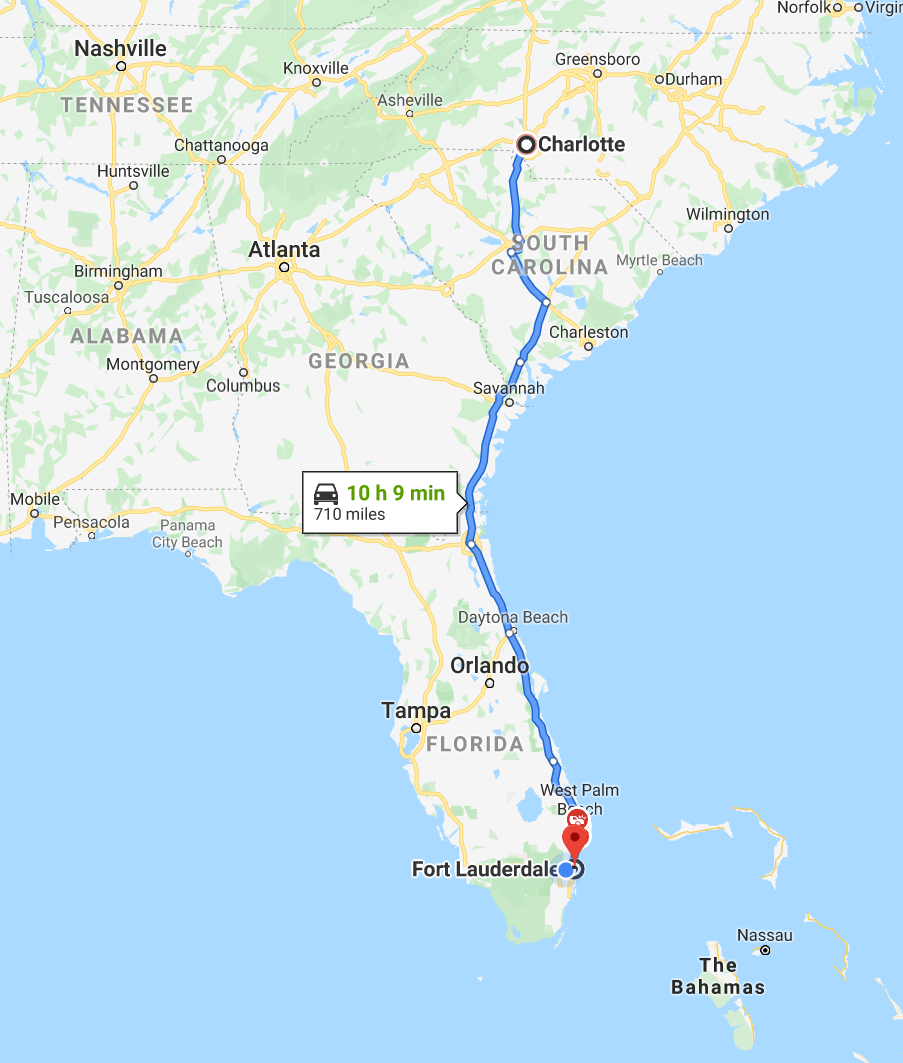 The captain and the entire crew fell in love with Miranda – "La Reina de la Parranda".  She and Santi were invited by the captain to join them for a while.  It was fun…!!!
We did some shopping while we were in Charlotte airport.  We even called Mamy to let her know that we were OK.  Charlotte's airport is very nice… small, but nice.  It was the first time for all of us.
 FROM CHARLOTTE TO KNOXVILLE, TENNESSEE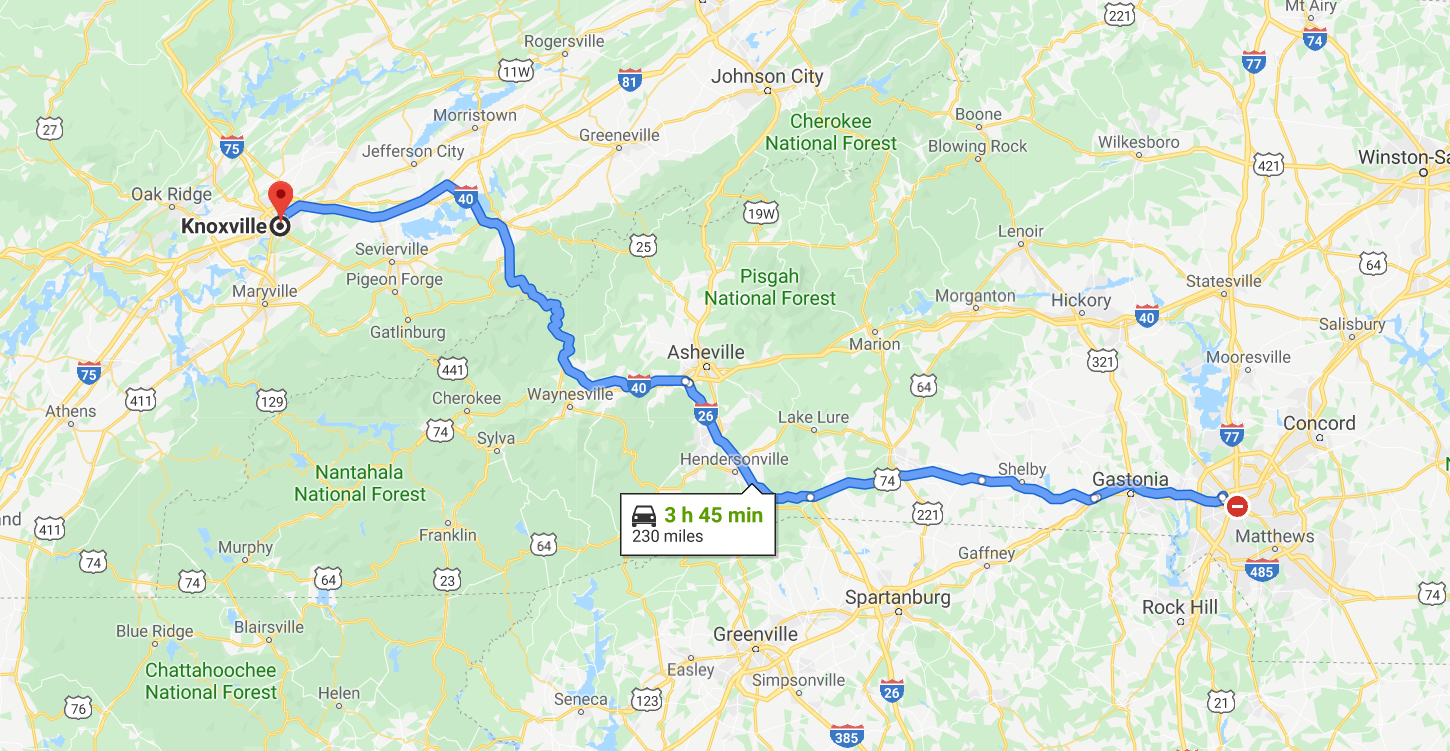 Knoxville, Tn
FROM KNOXVILLE TO GATLINBURG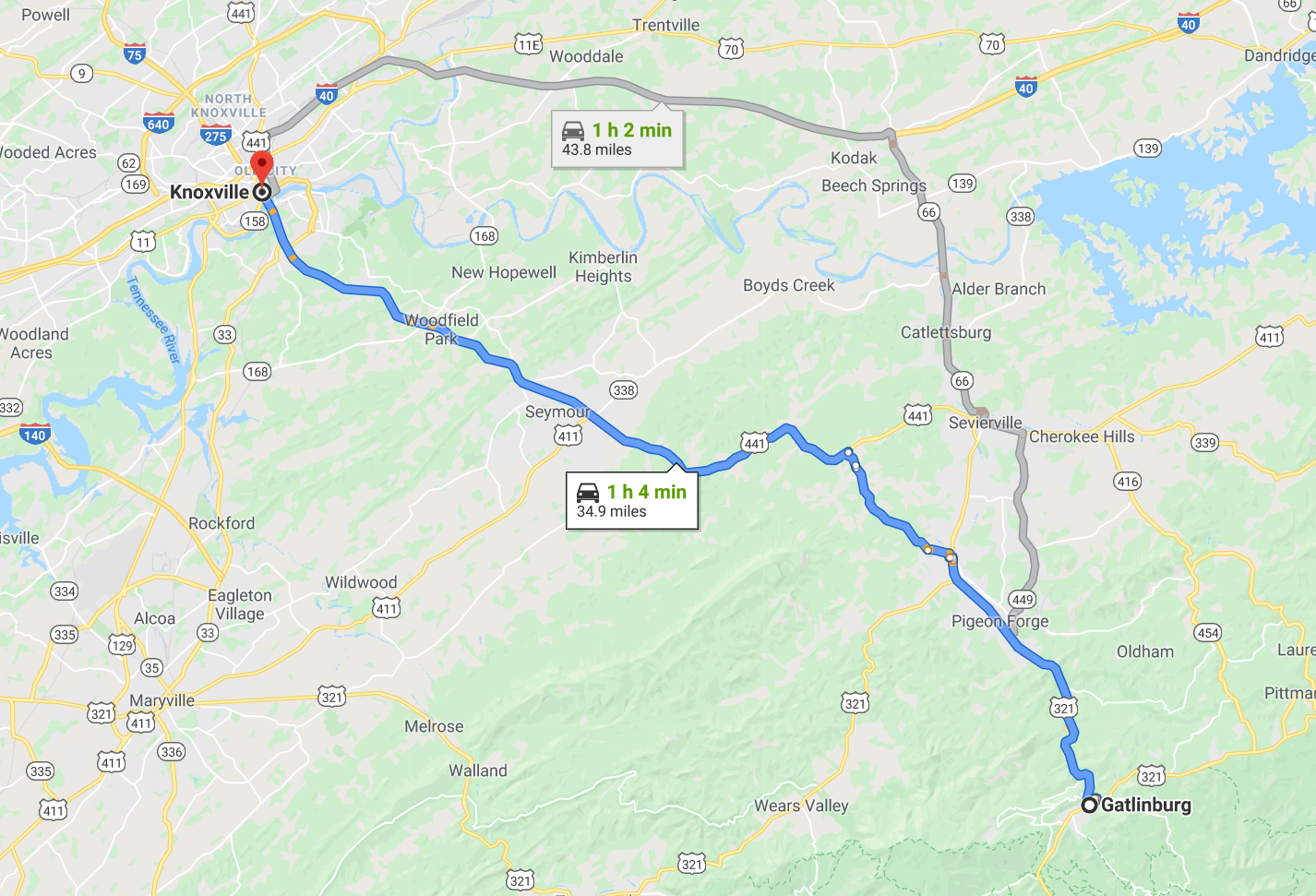 We took the long way from Knoxville to Gatlinburg because the view was nicer.  Our driver was a really nice lady.  It took us about an hour and a half to get there and we stopped on ou way to let Miranda & Santi feel the snow for the first time.  We were a little disappointed because there was not too much snow along the road.  To really see snow we needed to go up the mountain, in Ober Gatlinburg.
Gatlinburg
THE SIDNEY JAMES MOUNTAIN LODGE
WALKING & DRIVING AROUND GATLINBURG
Our first activity was walking around Gatlinburg's downtown.  We went in in every little shop, looked everything over.  It was very very cold, at least for us Floridians, but we were all prepared with our winter clothes, bought the day before in Walmart
We wanted to see Gatlinburg at night, so we asked our driver to go around the town, from one end to another.  It only took five minutes to see it all.  There is only one big avenue that runs through Gatlinburg.
WESTGATE RESORT
This was a very bad experience.  We went crazy with the place and bought a week in a beautiful cabin.  We paid $ 500 down, and since we then realized that we were not going to use it, we needed to pay $ 1,200 to get off the contract.  We spent half a day there and the kids were entertained by a specialist.
SHOPPING AROUND GATLINBURG
Of course, the vacation was not completed without buying "porqueries", Miranda & Santi's favorites.   So, in Gatlinburg: we went to "porqueriés" shopping…!
PLACES WE VISITED IN AND AROUND GATLINBURG

Miranda and Santi had a really good time in Wonder Works, but Abito and Abita couldn't wait for the day to end.  The place is huge and the Miranda and Santi rode in everything.
Santi talked Abito into riding this bicycle and he almost had a heart attack.  Never again…!!!
THE HATFIELD & McCOY SHOW
OBER GATLINBURG




Playing in the snow…!!!
The Chocolate Factory
Eating out…!!!





Snow
Miranda & Santi
Abito & Abita
Back Home