Miami July 18, 2020
President Donald Trump
The White House
Dear Mr. President
I was born in Cuba, but in 1961 at the age of 11 my parents took me into exile in Venezuela. Next month I'm going to be 70; we have four children and two grandchildren: all American citizens! In Venezuela I obtained the Venezuelan citizenship and later here in the US: the American. I studied my high school and higher education in Washington State, Germany and Scotland.
At the beginning in 1950, when I was born on August 23, my father was sure that the ill-carried democracy in Cuba had its days numbered. Indeed, the then-president Carlos Prío Socarrás (1948-1952) was deposed without real justification by General Fulgencio Batista, whose regime created the broth for Fidel Castro to come to power.
In 1994, when Rafael Caldera arrived in Miraflores Palace for the second time, I told my family that Venezuela's ill-carried democracy had its days numbered. Both my father, in 1950, and I – in 1994 – based our beliefs on the economic, political and social scenarios of both nations, although in economic matters Cuba was not then in disrepair, but corruption was unmeasured and the people, as with the people of Venezuela, had lost faith in their political institutions and leaders. You know well the rest of the story.
In 2004 I was forced into exile once more. This time it was my turn to flee to this great country, the United States of America. In the 2008 election campaign, I accompanied then-Republican candidate John McCain, whose campaign I closed at the University of Miami, just days before the election.
I'm sorry to spoil your day, but the deterioration my father saw in Cuba in 1950, and the one I saw in 1994 in Venezuela do not compare – at all! – with what we are living and corroborating today in this beloved country.   My father, in Cuba at the time, was given the task of alerting his community. The same thing I did in Venezuela, not in 1995: since 1985! Neither of us were wrong, although I hope that this time I will be flatly wrong about the United States of America.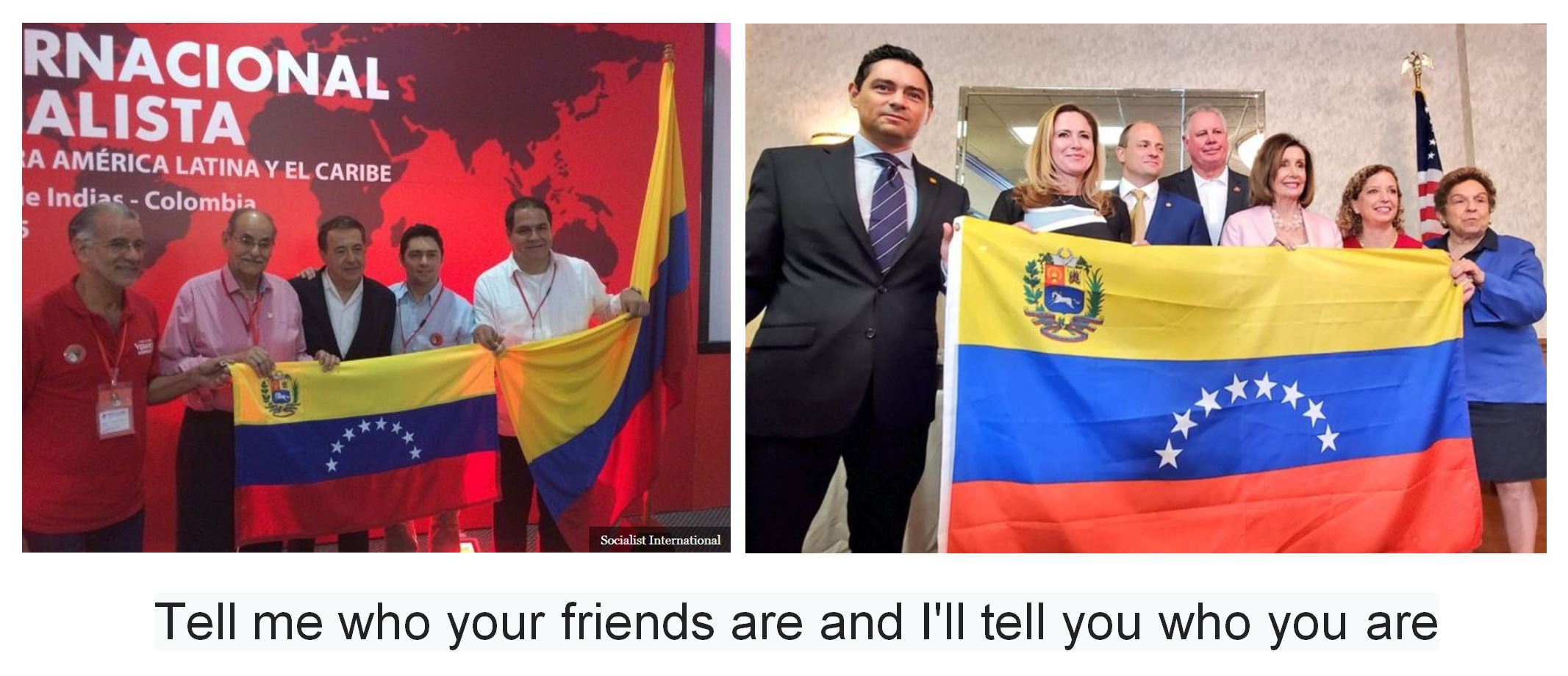 We have two children aged 27 and 25. Both are American citizens and are registered in the armed forces of this country. I would not like to see them die or return home mutilated liberating Venezuela so that instead of the criminal narco-regime that today prevails, Venezuela will be taken over by socialist leaders and as corrupt as those who today depress and destroy, systematically, one of the most blessed countries by the Creation of God.
Each and every leader of that supposed opposition that you and many First World countries support: ARE SOCIALISTS! All of them! In addition to their ideologies, they have proven to be extremely corrupt, amoral and traitors. I respectfully invite you to review the comments that many Venezuelan citizens post today on the social media: Twitter, Instagram, YouTube and Facebook.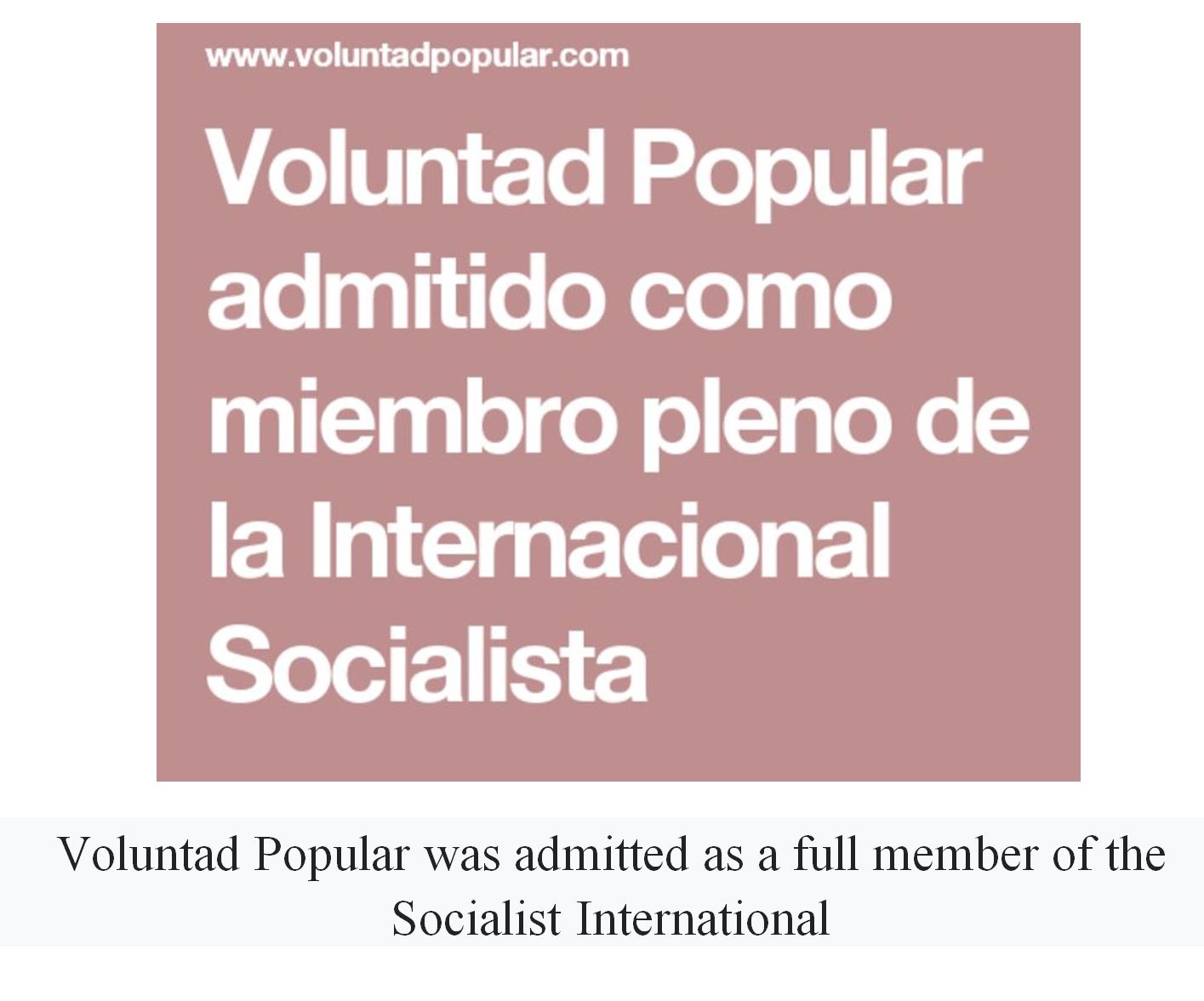 My father, RIP, saw a serious problem with American presidents. He said that they use presbyopia lenses to see objects located miles away. The American "presidential vision," according to my father, had a range of four to eight years: no more! "Whomever comes after: let him latch the horses!" he used to comment. Is this what is happening today in this, my second adoptive country?  What ever happened to Section 1021 and 1022 of  "Public Law 112-81" (National Defense Authorization Act (NDAA)?  Are we going to have to wait for the next president of planet Earth's most powerful nation, in order to see what would be his commitment toward freedom?
America has numerous terrible domestic-internal problems and another batch of external problems. One of these external problems is generated in today's Venezuela, which has become a dangerous and imminent "Sword of Damocles" for this country, for those of us who make life here and, even worse: for the free world!
Wishing you all the luck in the world,
Yours truly,
Roberto Alonso
Mr. President: they are ALL socialists…!!!
I would like you to knowmeet Guido's ambassador to the UK, Vanessa Neumann:
Just in case you don't know the The International Anthem of Socialism, I am sending you here the English version:
And just for you "to enjoy", here are Fidel and Raul Castro, singing The International Anthem of Socialism:
Copy to:
Beverly LaHaye – Thomas Sowell – Richard Viguerie – Walter E. Williams – Morton Blackwell – Arthur Laffer – George Will – Edwin Feulner – Peggy Noonan – Bruce Bartlett – Bill Kristol – Mary Matalin – L. Brent Bozell III – Grover Norquist – Dinesh D'Souza – Ben Shapiro – Charlie Kirk – Edwin Meese – Orrin Hatch – Ron Paul – Antonin Scalia – Dick Armey – Dick Cheney – Newt Gingrich – George W. Bush – Mitt Romney – Tom DeLay – John R. Bolton – Clarence Thomas – Karl Rove – Jim DeMint – Condoleezza Rice – John Roberts – Michele Bachmann – Mike Pence – Rand Paul – Sarah Palin – Tim Scott – Scott Walker – Ted Cruz – Paul Ryan – Mike Lee – Marco Rubio – Tom Cotton – Rupert Murdoch – Sheldon Adelson – Charles G. Koch – Foster Friess – Richard Land – Robert Mercer – Franklin Graham – Tony Perkins – Peter Thiel – Russell Moore – Michael Savage – Herman Cain – Lou Dobbs – Michael Medved – Dennis Prager – Bill O'Reilly – Rush Limbaugh – Larry Elder – Charlie Sykes – Hugh Hewitt – Sean Hannity – Ann Coulter – Laura Ingraham – Elizabeth Cheney – Matt Drudge – Jonah Goldberg – Michelle Malkin – Erick Erickson – Dana Loesch – Acton Institute – American Enterprise Institute – Cato Institute – Claremont Institute – Competitive Enterprise Institute – Discovery Institute – The Heartland Institute – The Heritage Foundation – Hoover Institution – Hudson Institute – Ludwig von Mises Institute – Manhattan Institute for Policy Research – Mercatus Center – Reason Foundation – Bradley Foundation – John Templeton Foundation – Koch family foundations – Lovett and Ruth Peters Foundation – Mercer Family Foundation – Richard and Helen DeVos Foundation – Scaife Foundations – Searle Freedom Trust – Smith Richardson Foundation – Alliance Defending Freedom – American Conservative Union – American Family Association – American Legislative Exchange Council – Americans for Prosperity – Club for Growth – Concerned Women for America – Council for National Policy – Faith and Freedom Coalition – Family Research Council – Federalist Society – Focus on the Family – Freedomworks – Independent Women's Forum – John Birch Society – Judicial Watch – State Policy Network – Turning Point USA – US Chamber of Commerce – Young Americans for Freedom – The American Conservative – The American Spectator – Blaze Media – Breitbart News – Chronicles – CNSNews.com – Commentary – The Daily Caller – Drudge Report – Fox News – Free Republic – FrontPage – Human Events – National Review – New York Post – Newsmax Media – One America News Network – RedState – Reader's Digest – RedState – Regnery Publishing – Sinclair Broadcast Group – Townhall.com – The Wall Street Journal – The Washington Free Beacon – The Washington Times – The Weekly Standard – WorldNetDaily –Kevin McCarthy – Steve Scalise –Liz Chene – ,Tom Emme – ,Mark Walker – Jason Smith – Gary Palmer – Michael Conawa – ,Kay Granger – Mac Thornberry – Steve Womack – Virginia Foxx – Greg Walden – Kenny Marchant – Patrick McHenry – Michael McCaul – Mike Rogers – Rodney L. Davis – David Schweikert – Jim Jordan – Rob Bishop – James Comer – Devin Nunes – Tom Cole – Doug Collins– James Comer – Michael Conaway – Paul Cook – Rick Crawford – Dan Crenshaw – John Curtis – Warren Davidson – Rodney L. Davis – Scott DesJarlais – Mario Diaz-Balart – Jeff Duncan – Neal Dunn – Tom Emmer – Ron Estes – Drew Ferguson – Brian Fitzpatrick – Chuck Fleischmann – Bill Flores – Jeff Fortenberry – Virginia Fox – ,Russ Fulcher – Matt Gaetz – Mike Gallagher – Mike Garcia – Greg Gianforte – Bob Gibbs – Louie Gohmert – Anthony Gonzalez – Jenniffer González-Colón – Lance Gooden – Paul Gosar – Kay Granger – Sam Graves – Tom Graves – Garret Graves – Mark Green – Morgan Griffith – Glenn Grothman – Michael Guest – Brett Guthrie – Jim Hagedorn – Andy Harris – Vicky Hartzler – Kevin Hern – Jaime Herrera Beutler – Jody Hice – Clay Higgins – French Hill – George Holding – Trey Hollingsworth – Richard Hudson – Bill Huizenga – Will Hurd – Bill Johnson – Mike Johnson – Dusty Johnson – Jim Jordan – David Joyce – John Joyce – John Katko – Fred Keller – Mike Kelly – Trent Kelly – Peter King – Steve King – Adam Kinzinger – David Kustoff – Darin LaHood – Doug LaMalfa – Doug Lamborn – Bob Latta – Debbie Lesko – Billy Long – Barry Loudermilk – Frank Lucas – Blaine Luetkemeyer – Kenny Marchant – Roger Marshall – Thomas Massie – Brian Mast – Kevin McCarthy – Michael McCaul – Tom McClintock – Patrick McHenry – David McKinley – Cathy McMorris –  Rodgers – Dan Meuser – Carol Miller – Paul Mitchell – John Moolenaar – Alex Mooney – Markwayne Mullin – Greg Murphy – Dan Newhouse – Ralph Norman – Devin Nunes – Pete Olson – Steven Palazzo – Gary Palmer – Greg Pence – Scott Perry – Bill Posey – Aumua Amata – Coleman Radewagen – Tom Reed – Guy Reschenthaler – Tom Rice – Denver Riggleman – Martha Roby – Phil Roe – Hal Rogers – Mike Rogers – Francis Rooney – John Rose – David Rouzer – Chip Roy – John Rutherford – Steve Scalise – David Schweikert – Austin Scott – Jim Sensenbrenner – John Shimkus – Mike Simpson – Adrian Smith – Chris Smith – Jason Smith – Lloyd Smucker – Ross Spano – Pete Stauber – Elise Stefanik – Bryan Steil – Greg Steube – Chris Stewart – Steve Stivers – Van Taylor – Glenn Thompson – Mac Thornberry – Tom Tiffan – ,William Timmons – Scott Tipton – Mike Turner – Fred Upton – Jefferson Van Drew – Ann Wagner – Tim Walberg – Greg Walden – Mark Walker– Jackie Walorski – Michael Waltz – Steve Watkins – Randy Weber – Daniel Webster – Brad Wenstrup – Bruce Westerman – Roger Williams – Joe Wilson – Rob Wittman – Steve Womack – Rob Woodall – Ron Wright – Ted Yoho – Don Young – Lee Zeldin